The National Trails System is a network of 30 Congressionally-designated scenic and historic trails spanning the United States. The Ice Age National Scenic Trail travels 1,200 miles through a wide variety of scenery, highlighting Wisconsin's Ice Age heritage as well as the state's unique beauty.
This is the story of two friends who decided to hike the entire route, section by section, over the course of a few years. Cheryl and Ann share their experiences here as part of our ongoing series interviewing people who love the national trails. Hikers who complete the Ice Age Trail are known as Thousand-Milers. Ice Age Trail Alliance (IATA) has documented 86 Thousand-Milers.  According to their 2013 report, 73% section-hiked over the course of a few seasons and 27% thru-hiked the trail (non-stop). This trail is one of the only national trails that is located in just one state.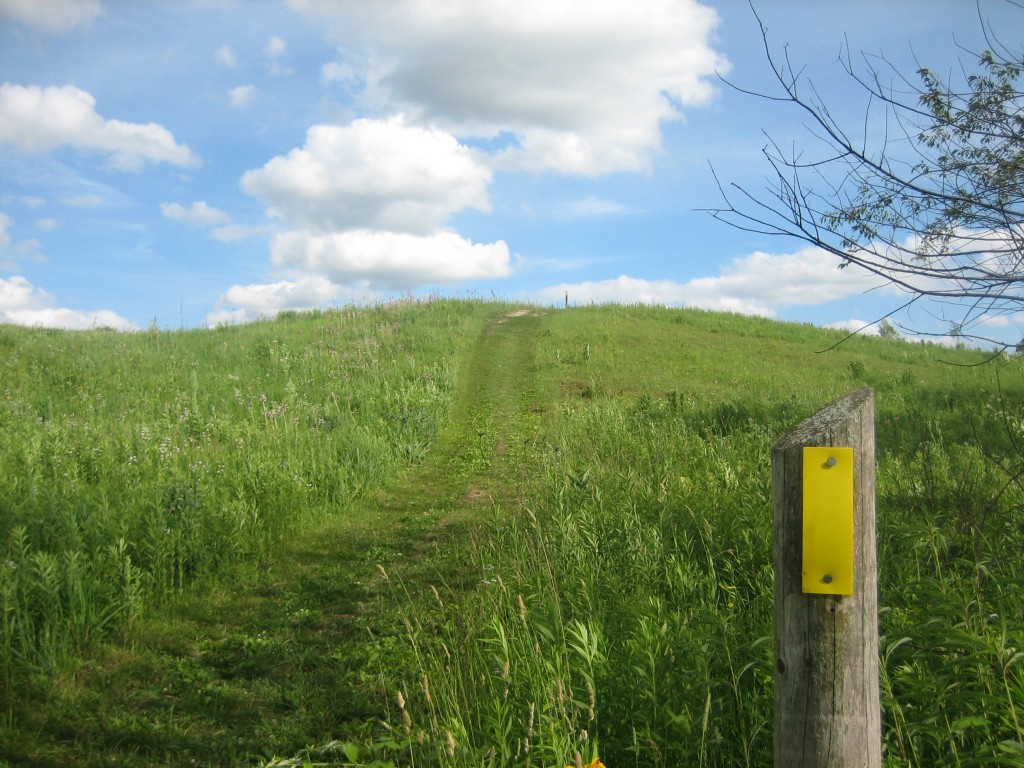 The Ice Age Trail seems to have a good trail organization supporting it. How did IATA help you with your goal of completing the Ice Age Trail?
Cheryl: In our situation, since Ann and I are both members of the IATA, we had a network of people we knew and had even helped build some of the trail segments in the state. IATA is an organization that, in conjunction with the NPS and the Wisconsin Department of Natural Resources, is committed to support and protect the Ice Age National Scenic Trail. They have a website that offers information on Chapters across the state that have volunteers known as "Trail Angels." Some will offer shuttle service, a place to stay and information on trail conditions. In addition the Alliance offers an Ice Age Trail Atlas for sale with maps of all the sections. The Trail Companion is a must for helpful tips on places to stay and eat, local history and suggestions on road connectors and finding trailheads.
Ann: The Ice Age Trail Atlas was indispensable. The maps got us where we needed to go. The Companion guide and notices on the website are also helpful, but we forgot to consult them regularly. Sharon Dzingle provided us with a spreadsheet to calculate and keep track of our mileage. There are many people who are willing to help shuttle hikers. It is a wonderful organization.
How did you decide which section hikes to do and the order in which to complete them?
Ann: We hiked closest to both of our homes, then randomly jumped around from there. We hiked roads during winter because they were too hot in summer and snowshoeing was too difficult in winter.
Cheryl: Ann is the best planner. We did not hike in any particular order, but would plan the hike depending on the season. For example, we discovered that road and connecting hikes were better in the winter. We also planned spring hikes in areas we hoped would be somewhat dry, Summer was not our best season because of the heat and the bugs. Ticks were a serious problem in some areas.

Were there times when weather issues became a significant factor for you?
Ann: We started out in a blizzard on the first day of spring. We had some beautiful hoar frost days. Not too much rain, but heat could do us in. We did get very wet snow in April that we weren't prepared for and got chilled to the bone.
Cheryl: This is Wisconsin, so winter and what can be referred to as post-winter generally means "cold weather". However, I would say we had more weather perfect days than not. I can only recall one downpour, Naturally, I only had my rain jacket on and not my rainproof pants!
What were some other challenges on the trail?
Cheryl: Well, there were some real challenges at a few of the water crossings. The Chequamegon National Forest is a wilderness area and trail maintenance is a challenge, so we had to be alert for blazes. It is bear country and we were eager to spot one, but we never did.
Ann: We had trouble on a few roads. In the north along the logging roads signage was challenging.
How long did it take you to complete the entire route?
Ann: It took us 5 years and 100 days.
Cheryl: We planned to hike the trail in 100 days. We figured we would have to hike 11 miles a day. We mostly stuck to this formula, but sometimes weather and schedules changed the miles we hiked. We also tried to hike at least once a month for a weekend. It took us five years to accomplish our goal!
How were trail markings and opportunities along the way to learn about geology and Ice Age history?
Cheryl: In some places the signage was awesome and in other areas there were problems. Sometimes Chapters in charge of a specific area may not have many volunteers to help with signage. We joked that if you wanted to find a blaze, look for the downed trees. Often the sign would be on the ground, especially in areas that had experienced strong wind damage. In well traveled areas there were plenty of signs and often interpretive signs, as well as wooden trailhead signs giving the segment name, location and miles to the next section.
Ann:   Blazes and signs were mostly visible, but in the north there are sections near logging roads which were poor. We lost blazes at least three times and sometimes arrows were wrong. There are a few Ice Age interpretive centers and some signs, but not too much.

Would you encourage others to hike the trail?
Ann: Yes, it is definitely worth hiking and is very accessible from most places in the state. Hike in spring, winter and fall; the summer is tough, with heat and bugs.
Cheryl: I would strongly encourage hiking the Ice Age Trail. It was and is a wonderful experience. Many people in Wisconsin live within easy driving distance of a section of the trail. I continue to hike and help maintain trails in my area. The Ice Age Trail Alliance continues to add new off-road trail every year. Another plus for the Ice Age Trail is that it goes through many small towns in Wisconsin. It is great way to meet the locals and learn about local history.

What kinds of wildlife did you encounter along the way?
Cheryl: Wildlife is plentiful, including many deer, turkeys, blue heron, sandhill cranes, turtles and snakes! The good news for me is that the snakes are not poisonous. I am not a fan. At one point we came across a newborn fawn lying in some brush. For protection, a fawn does not move and apparently has no smell. We almost stepped on it! It was like a statue.
Any favorite places on the trail?
Ann: We liked water. My favorite place is Devil's Lake. However, hiking along Lake Michigan and the Eau Claire Delles, Chippewa Moraine and St. Croix Falls were other favorite places.
Cheryl: Wisconsin is an incredibly beautiful state. Areas of special interest and beauty were St. Croix Falls on the Wisconsin-Minnesota border due to the glacier potholes and rushing water. Chippewa County is lovely because of all the small lakes. But my favorite is the lakeshore area in Door, Kewaunee and Manitowoc Counties. Point Beach State Forest has 6 miles on the Ice Age Trail to hike. This is great in the summer. I am lucky to have grown up in Door County and now live in Manitowoc County. "There's no place like home."
Congratulations to Cheryl and Ann on becoming Thousand-Milers. You can read more details about their trip at www.trailjournals.com under "Ice Age Trail" as well as read about other Thousand-Milers. The IATA website www.iceagetrail.org is also a good resource.